There are several thread types available when selecting the correct fittings for your pneumatic equipment. Choosing the correct thread type will ensure optimum compatibility with your equipment and avoid malfunction. You will find yourself looking through an endless amount of fitting options, so how do you select the right one?
This guide will help you identify the correct thread type in four easy steps. You will need a caliper, pitch gauge, and size charts to complete this process.
Threads are divided into four primary main types: NPT, G/BSP, PT, metric or UN/UNF. Most North American hydraulic and pneumatic components are compatible with National Pipe Threads (NPT), or Unified Threads (UN/UNF).
Identifying thread type
Step 1 – Male thread vs female thread — The first step is to identify your thread as male or female. Male threads have threads on the outside while female threads are on the inside. The gender does not affect the functionality of the thread. It simply serves as a classification between both connections.
Step 2 – Tapered vs parallel thread — Tapered and parallel threads are easy to distinguish based on their profiles. Tapered threads look narrower as they extend outward while parallel threads remain the same diameter straight down. If you are unable to determine the differences based on their profiles, a caliper will be useful here.
Step 3- Measure pitch size — Use a pitch gauge to measure pitch size. Thread pitch size is the distance between threads. They are measured by the number of threads per inch or the distance between threads on metric thread types.
Step 4 – Measure thread diameter — Use a caliper to measure the outside diameter of a male thread and inside the diameter of a female thread. You may see small variances between your measurements and the size charts. This is due to different thread manufacturers.
Step 5 – Determine thread type standard — The final step in identifying your thread type is to determine your thread type standard. Compare your measurements to size charts below.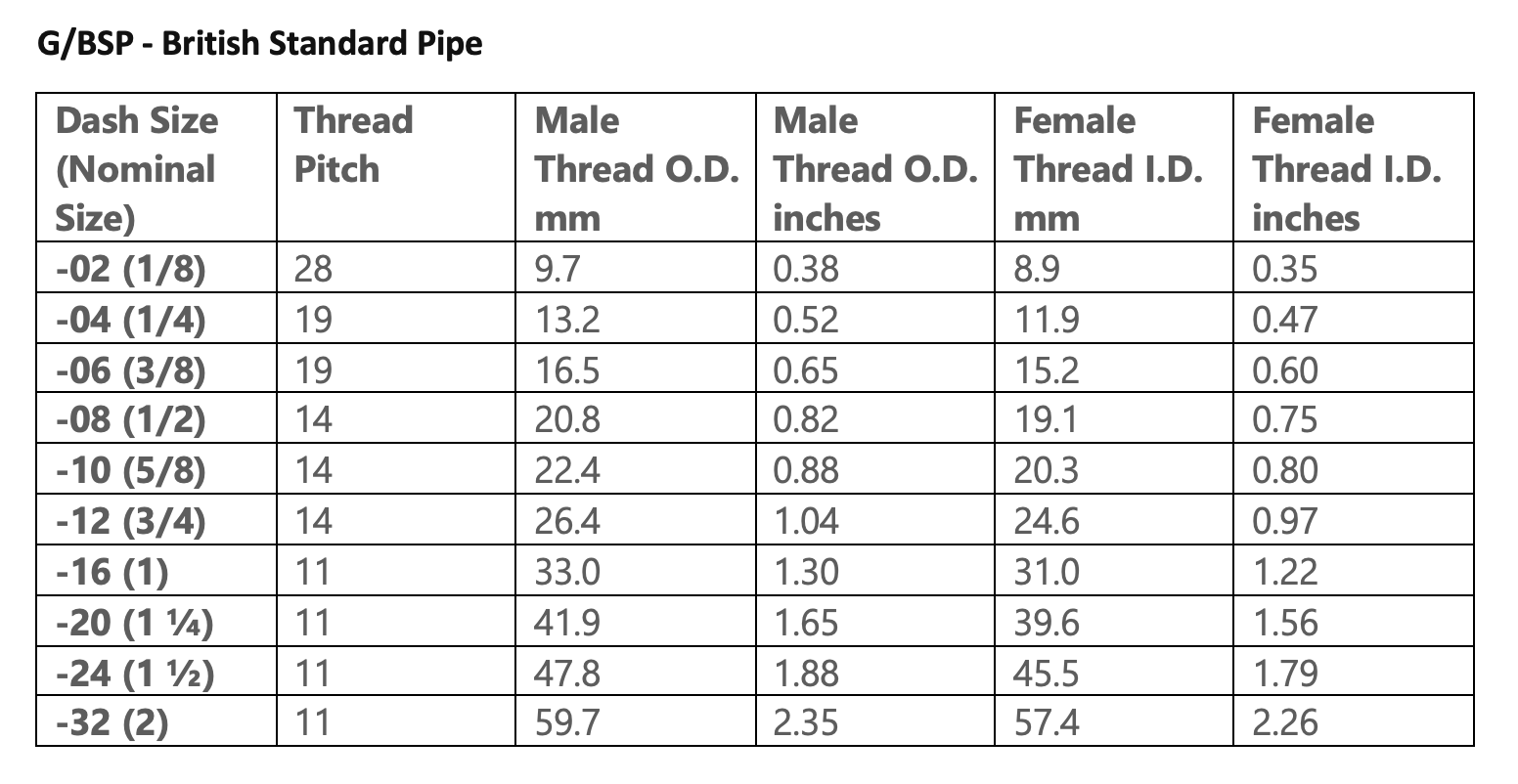 Alternative solution: Sealant tape
If you are unable to identify your thread type, below are quick workarounds that can help you save time.
If your equipment was manufactured in China, you will most likely need PT threads. Equipment from North America typically has NPT threads.
Airtac pneumatic components use NPT, PT, or G thread types
PFTE Thread Seal tape can be used as an alternative
Adhesive bonding such as a PFTE sealant tape can be used as a last resort to mate different thread types. Sealant tape is best used on tapered threads and should be applied to the clean thread and screwed together as normal.
Trimantec
www.trimantec.com
---
Filed Under: Fittings, Couplings & Adapters, Hose Assembly Tips
---