The problem
The military had an issue with shooting accuracy due to soldiers training on machine guns without live ammunition. They complained of having experienced very different sensations when firing live rounds, because they were not used to the noise and feel during practice. The military needed a responsive solenoid valve manufacture to expedite the design of a custom valve while their engineers worked on a device that would simulate live fire. The time frame was very short as training was ongoing for active military operations.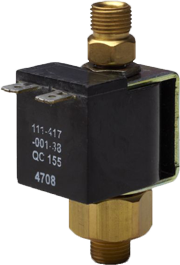 The solution
Solenoid Solutions developed a 2-way valve with a custom body, potted for weather, small space, and stainless steel braided tubing for wear. The valve worked with an air activated canister that was created to replicate the kick back and sound of rounds being fired. Solenoid Solutions produced drawings and after prototyping went directly into production of this 2-way normally closed, solenoid valve that when activated by the trigger simulated firing of live ammunition in an automatic machine gun.
Result
With the use of the machine gun simulator, without firing live ammunition, soldiers showed dramatic improvement in accuracy and felt a higher level of confidence handling the rifle during combat. Solenoid solutions delivered 400 valves on the initial order and supplies replenishment quantities on a regular basis.
Solenoid Solutions Inc.
www.solenoidsolutionsinc.com