Hannover Messe returns April 1-5 with its Integrated Automation, Motion & Drives (IAMD) show spanning 14 exhibition halls.
One of the world's largest industrial trade shows opens April 1-5 at Hannover Messe, this year with the motto "Integrated Industry – Industrial Intelligence." Hannover's Integrated Automation, Motion & Drives (IAMD) — a mega-show spanning 14 exhibition halls — will highlight smart sensors, intelligent drives, modular production, automated logistics systems and holistic solutions for intelligent manufacturing. IAMD covers everything to do with industrial automation, industrial IT, power transmission, and fluid power technology — from mechanical engineering and robotics to process automation.
The motto reflects the organizer's desire to show how the close integration of automation, power transmission and fluid power and software and IT can supercharge industrial production.
In 2019, the integration, digitization and interconnection of industrial technologies will transform the world's manufacturing industries more than ever before. In recognition of this, the IAMD show will feature the full range of products and solutions for the factory of the future, including intelligent hydraulics and pneumatics systems, factory and process automation systems, industrial IT, robotics, and smart drives. All of the exhibits will share one unifying theme: "Industrial Intelligence." Artificial intelligence and machine learning are helping to eliminate production downtime, boost efficiency and ensure the seamless integration and operation of all the different parts that make up smart factories.
"Automation solutions for the digitization and smart integration of industrial technologies will be the focus of the upcoming IAMD show,» said Arno Reich, Global Director IAMD for Hannover Messe. "IAMD will also showcase the best power transmission and fluid power technologies the world has to offer, as well as serve as a central forum for debate on the latest market and technology trends."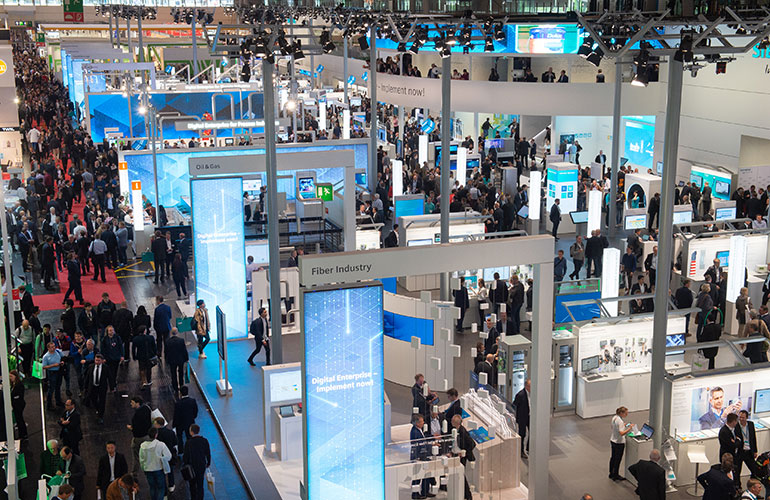 A large number of fluid power manufacturers will be among the more than 2,000 exhibitors highlighting 9,000 products throughout the week. Key fluid power exhibitors include: Argo-Hytos, Aventics, Bansbach, Bosch Rexroth, Bucher Hydraulics, Continental, Eisele Pneumatics, Festo, HAWE Hydraulic, Hunger Hydraulics, Hydac, IMI Precision Engineering, Intertraco, KTR, Mindman Industrial, Oleotec, O+P, Parker Hannifin, Piab, Scanwill Fluid Power, Stäubli, SUCO, Trelleborg, and many more. Visit www.hannovermesse.de for a complete exhibitor list.
Automation and AI take center stage
Apart from the exhibits, supporting forums and special presentations will include the Hannover Messe Pump Plaza, Wireless, M2M & IoT display; the Application Park showcase for robot manufacturers, systems integrators and image processing specialists; and a new SME Pavilion where small and mid-sized companies will present their Industry 4.0 solutions. Among Hannover Messe's many platforms for learning, knowledge sharing and lively debate on the latest trends and developments will be the new Motion & Drives Forum and the well-established Automation and Industry 4.0 forums within the IAMD show.
The theme of Hannover Messe 2019 underlines the growing importance of artificial intelligence and machine learning in the production and energy industries, including such areas as energy efficiency and use and autonomous production processes as well as challenges in terms of interfaces, protocols and security.
Finally, visitors to the event will see a focus on this year's chosen Partner Country of Sweden. Collaboration, innovation and digital transformation will be at the center of Sweden's presence, with the country's main objective to promote networking, trade and investment with partners from around the globe.
Hannover Messe
hannovermesse.de
---
Filed Under: News
---